Therapeutic Evolution PT Services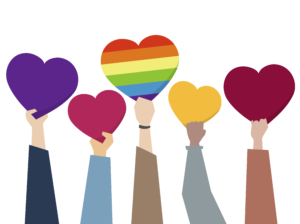 Who can benefit from physical therapy services provided by our office? The answer to this question is, EVERYONE! We are happy to be an all-inclusive practice with training treating a variety of populations including female, male, transgender and pediatric clients.
Pelvic health is a specialization provided by this practice.  With over 11 years of  experience treating a variety of pelvic symptoms that can arise at any age, it has proven rewarding to offer this service to help patients regain confidence again.  Some of the conditions that pelvic rehabilitation can help with include urinary incontinence, rectus diastasis, prostate and erectile dysfunction, urgency/frequency with urination or with bowel movements, constipation, pelvic pain, and bed wetting (nocturnal enuresis).
We also treat most diagnoses including chronic pain, migraines, temporomandibular joint dysfunction (TMJ), low back pain, joint pain and symptoms associated with neurologic disorders such as multiple sclerosis (MS) and Parkinson's disease (PD) utilizing manual therapy techniques. These techniques help improve function, range of motion, strength, and postural alignment.  Exercises may be given to promote stability and improve strength.
Call (518) 512-3452  or contact us online for more information. Learn more about our team and Albany NY physical therapy services at Therapeutic Evolution.
Therapeutic Evolution PT prides itself in getting to know each patient.  In order to do that, each patient is seen for one hour during the initial evaluation.  Part of that time is spent putting the pieces of the history given to what the condition presents as today.  A postural evaluation is performed along with various measurements to determine a baseline for each patient.  Treatment is also provided during the initial assessment along with some initial stretches or self therapeutic treatment tools for the patient to begin at home.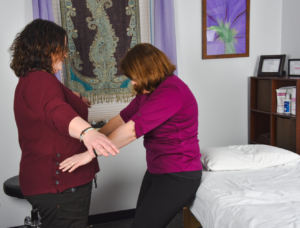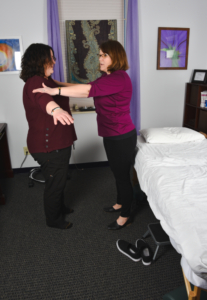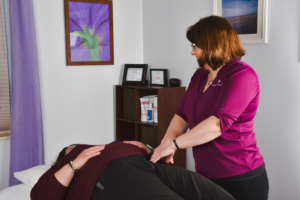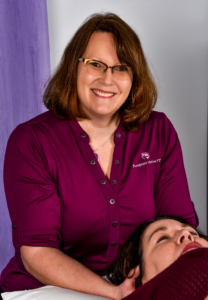 A treatment session may consist of one or more of the following:
Muscle Energy Technique (MET)-resistance is provided by the therapist after positioning the patient in such a way to promote realignment utilizing a specific muscle contraction.
Myofascial Release (MFR)-focuses on the fascial layer throughout the body.  The therapist engages this tissue in a triplane release technique effecting superficial and deep connective tissues.
Strain Counterstrain-type of passive positional release
Visceral Manipulation- promotes normalization of motility to a specific organ that has become restricted in movement.
Craniosacral Therapy (CST) – helps improve quality of movement within the deep fascial layer of the cranium and dura throughout the spine.
Electrical Stimulation – used for stress urinary incontinence or urge urinary incontinence when not responding to proper performance of kegels alone.
Biofeedback – used to help re-educate pelvic floor muscles that are weak, discoordinated or hypertonic and are not responding to manual therapy alone.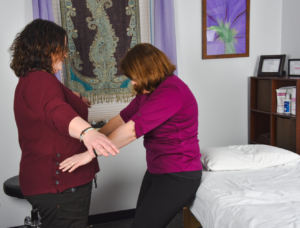 An extensive history intake and postural assessment is performed during the initial examination.  Most patients can expect an internal examination as well (except for my pediatric patients).  Please feel free to bring a chaperone for support if that will make the experience most comfortable.  It is important to assess the pelvis externally as well as internally to determine muscle tone, coordination of muscles and soft tissue tenderness.  There are some exceptions when external work is all that is indicated.  This is determined on a case by case basis.
What types of conditions can pelvic rehabilitation help with?
Dyspareunia-painful intercourse
Vulvodynia-chronic pain in or around the opening of the vagina
Erectile dysfunction-difficulty obtaining or maintaining an erection
Benign prostatic hypertrophy (BPH)-an enlarged prostate
Chronic pelvic pain-pain in the area below the belly button that can last more than 6 months
Irritable Bowel Syndrome(IBS)-condition effecting the large intestine, may result in bloating, diarrhea, constipation, cramping and gas.
Interstitial Cystitis (IC)-bladder pain
Urinary Incontinence (Stress, urge or mixed) –uncontrolled loss of urine
Fecal Incontinence (FI)-uncontrolled loss of fecal matter
Urgency-sudden need to urinate or move bowels
Frequency-urination that occurs more than 5-7 times per day
Retention-inability to completely empty the bladder
Constipation-fewer than 3 bowel movements per week
Coccydynia-painful coccyx
Pregnancy/postpartum-pain or discomfort during pregnancy or after child birth
Nocturnal enuresis-bed wetting
Insurances:  Therapeutic Evolution accepts most insurance plans.  Please call to confirm if we take yours.  We also offer reasonable direct pay rates for those who are out of network.
Direct Pay rates: $70 per 1/2 hour follow up visit and $135 for the 1 hour initial evaluation with treatment.
Cancellations:  In order to obtain optimal results, it is important to attend each therapy session in a timely manner.  If circumstances arise such as; illness, emergencies, inclement weather, there will be no charge for missed appointments.  Otherwise, a 24 hour notice will be expected to prevent a missed service charge.  This is in effect so patients on the waiting list have an opportunity to get in as well.  Appointment reminders are set up for your convenience.  Thank you for your understanding regarding this policy.